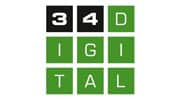 34digital develops, markets and supports practical solutions for digitization. The focus is on the topics of correspondence, data protection and the modern workplace.
Correspondence/CCM
As a project partner of kwsoft, 34digital has well-trained employees for the implementation of M/TEXT TONIC and Classic projects. They can benefit from many years of professional experience in the specialist departments of insurance companies, banks and administrations. They advise the customer's specialist departments on an equal footing in the specification and implementation of document templates.
In addition, 34digital trains its employees in the areas of requirements, test and change management. Here, too, the focus is on the specific challenges of a text project.
Data Privacy
Digitization is impossible without data protection. Only if the trust of customers and partners in the careful handling of their data is maintained, digital processes are an enrichment for the parties involved.
Based on this conviction, 34digital provides consulting and ready-made solutions in the area of data protection. The focus is on practical benefits. 34digital data protection consultants are happy to find a data protection-compliant implementation for the customer's business challenges.
The document portal, which is currently under construction, combines data protection with 34digital's expertise in document creation. Here, companies can edit and manage their data protection documentation in an advanced way – naturally with M/TEXT TONIC.
Modern Workplace
Digitization within companies is ultimately supported and lived by the employees. That is why 34digital rounds off its product range with various services related to the modern workplace. These include training, advice on planning and support during implementation. In addition, 34digital deals with the "soft" aspects of a networked working world, such as social networking within a company as a challenge for an existing or new corporate culture. www.34digital.de/ccm
Any questions? We'll call you back!